Having a bit of a penchant for thing olde (houses, cars, tools etc) I've been wanting a more traditional scooter than my late model Triumph Speed Triple.
I'm not really up for a Harley – while some models are cool, especially the old ones, they are a bit lardy and shit handling for my liking.  Even though I want something traditional, it still needs to carve.
On top of that, I don't really want to spend upwards of $25,000 on a motorbike that steers, stops and goes worse than a Speed Triple.
So, that leaves building a custom.  Right, so in theory I'll get everything I want for less money spent.  I'm not as stupid to believe that will happen, but its a project, right?
So, Google Image search has been a good friend to explore the style of bike I want to build.  Here are a few examples.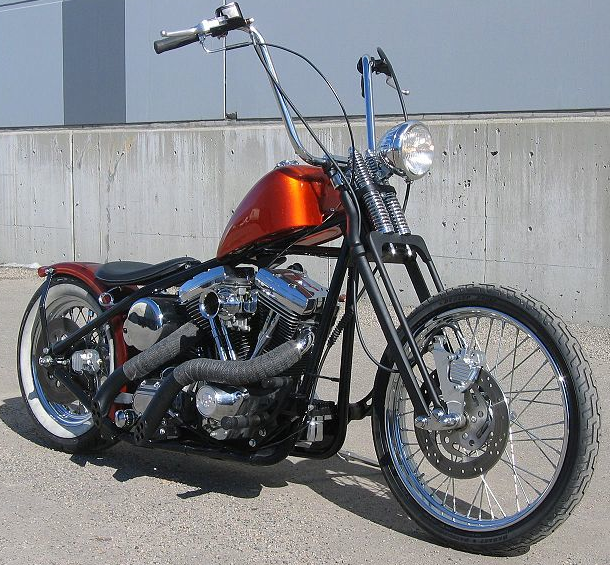 I like this look, low arse end, rigid, springer, peanut tank, and not a stupid amount of full-on chopper-style front end rake.  However, a bit too much chrome for my liking.  Chrome needs too much time to keep it clean and polished, which I'd rather use for riding, not cleaning.
Here's one with a Trumpet engine, nice bobber look.  Would never get rego in Victoria with the drum brakes, as cool as they look.
This one has a disc plus springer front end.  Can't see the power plant but looks like a small single.  Nice minimal look.
Not bad…
This is just a baby one, a 250cc I think.  The point of this pic – even though the ride looks pretty cool, the engine is WAY too late model for the style of bike (in my opinion).  So we need an OLD donor bike for the powertrain.
Ditch the side car and a lot of that chrome and this one has some appeal.  But again the motor is a bit late model.
Nice overall look, I think this is a later model Sporty with a solid links replacing the rear shock.  I am a bit partial on the large (maybe 21″?) front wheel.
Here's one that allegedly has an ole Ironhead donk.  Looks a bit more period style.
Here are a couple of "late model Bonneville" bobbers – showing you can use a later model powerplant to get the olde effect.
Here is another Shovelhead Sportster-powered bobber.  Very nice.  Prefer skinny front wheel, but thats just me.
So we'll just keep an eye out for other ideas and inspiration.
Onto the planning….